pjsProfileBars – Example trade setups
Read more about PJSProfilebars from the main page, here. 
Example setups
I will try to add more examples, as I see them and have time. These are all made LIVE – So my thoughts, before and after. No matter if I am right, or wrong! These are just ideas for you, though they are things I look at in my own trading. You should observe these setups develop in real-time and perhaps SIM trade them to get used to them. These are not trade recommendations. These are setups you can look for, and decide if they fit with your own trade plan. Please do your own homework before making live trades.
2021-04-14
NQ, low volume, pre-open – Seems rotational. You can see the volume build and the reversal. The POC is highlighted. The arrows show the scenarios you might want to look for. Remember, broken resistance becomes support, etc. Another thing to look for, is a small break, a build of volume above (absorption), then a move back down. In this scenario, I read it as the break being to gain the stop/breakout liquidity. Basically, algo's messing with you! It will be something to watch for and you'll see it in the profile shape when you get used to them.
BEFORE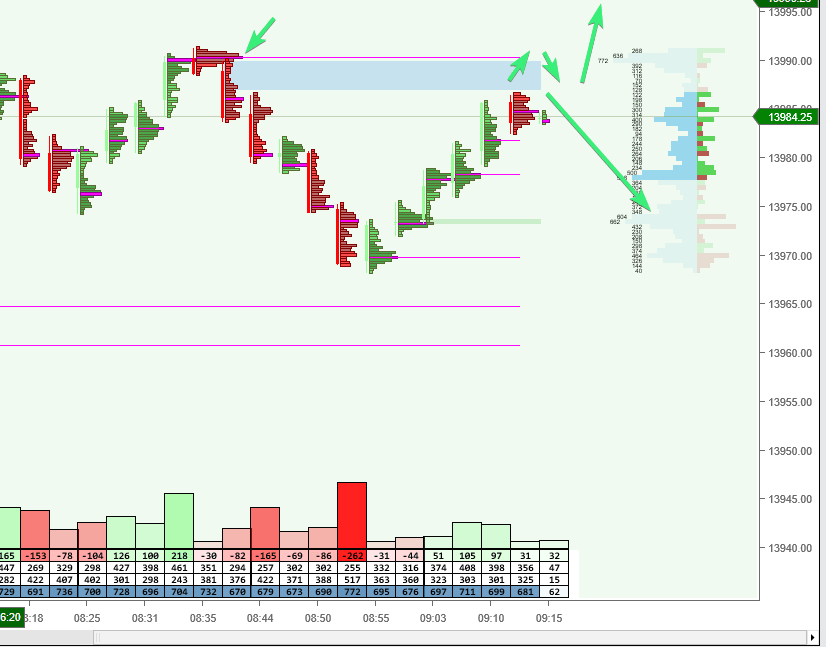 AFTER
So, as it happens, perfect trade (In my scalpers mind!).  Important to note – We are not trading the breakout. We are waiting for the breakout to be re-tested and see if buyers are still there, or shorts cover. The lines I drew (pre trade), show the bounce point I was looking at, which is your confirmation to start looking for the trade, and a possible entry. I chose that entry as it is up above the last POC and a move above that would mean people may be offside and cause a small covering move up. You can see the base of the profile is thin, because this happened. The fast move tends to leave little volume.