pjsOpeningRange – An opening range indicator for Ninjatrader 8
I was just looking for one of these, but alas, I could not find one freely available so I coded my own. I am sharing here as it appears this is something that is not easily locatable freely elsewhere. Hopefully someone else will find it useful.
Features
Really simple! Put it on a chart and it'll plot a line for the high and low of the opening range for a time period you specify in the settings. Example below
Here are the settings. You can change the time period the indicator marks the high and low for, so it is customisable for any time range you wish. The examples are 1430 hrs and 1433 hrs, so a 3 minute opening range.  You can add multiple copies of the indicator if you want several different time periods. Below, it is configured for 3 minutes (and GMT). You will have to configure to your local time.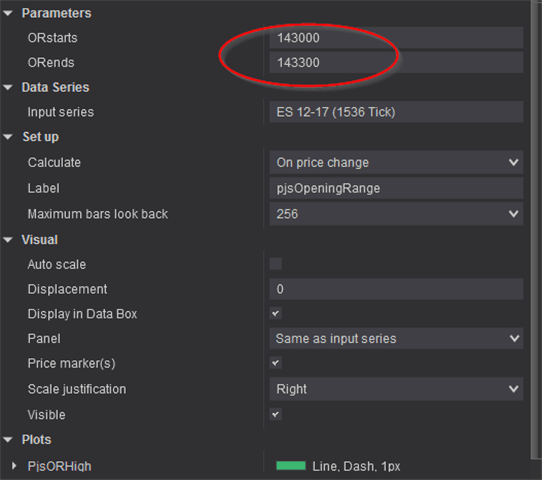 So there you go.
What do you think? Have any ideas? Let me know in the comments section below.
You might like to take a look at some of my other Ninjatrader bits and pieces.
Requirements
Ninjatrader 8
Updates
None yet
Download
You can download the latest version of the indicator here (Ninjatrader 8 and ES is all I have tested with)
As usual, let me know below if any issues and I will try to resolve, time permitting.
If you download it, and like it, please do me a favour and give it a little like above so I know. Thanks!
Donate
This tool, per most of my tools is free for non-commercial use (I define that as a 'private' investor with your own funds), but if you find it useful and wish to donate beer money, you can do so Via Bitcoin or PayPal. Any amount (no matter how small) will give you a warm fuzzy feeling and help me keep the power on. Be fair, just donate what you think is right. Thank you.
Bitcoin to  1PsQP6ECsevKRck4NPNJ3ZLnGaSJLxNyUT
PayPal to pjs DOT guernsey AT gmail DOT com
Commercial arrangements and custom versions are available if you wish to re-distribute or use for commercial purposes.  Please do not redistribute this, but feel free to link to it here.
At the very least, if you liked this or found it useful, please let me know in the comments section below or give it a like/share above. Thanks!
Contact me
Email me via the web site if you want to get in touch.