pjsProfileBars – An easy to use order flow tool for Ninjatrader 8
PJSProfilebars was created as nothing at the time I could find existed to fulfil my desires (which is typical of most of the tools I create). Namely, order flow presentation in a simple, clear way that also met my performance requirements (trading instruments like NQ in very volatile times can be tough!). It also had to be genuinely useful. I trade real $ – So it can't just look pretty.  I think it's still a unique tool in terms of what it does, and how it does it.
Features
Amazingly simple to use. PJSProfilebars lets you see INSIDE the bars and identify areas of interest and importance.
This is an 18 range NQ chart.
The section at the bottom of the above chart is the 'Data Grid' and is optionally enabled. It's included with the tool. Various important numbers, including the delta candles above the grid, can be shown (so yes, it's a delta too!). A great feature of the grid is the colour variance on numbers of importance. It's so easy at a glance to see those bars that matter. This is always relative to the other bars currently shown on the screen, so it automatically adapts to differing volatility, during the open, overnight, etc.
It also completely fails back to candle mode too! 2 charts in one! So this is the same, exact chart, with the X-axis reduced. Traditional candles or box candles can be used. This meant for me, not having to have a candle AND a profile/order flow chart.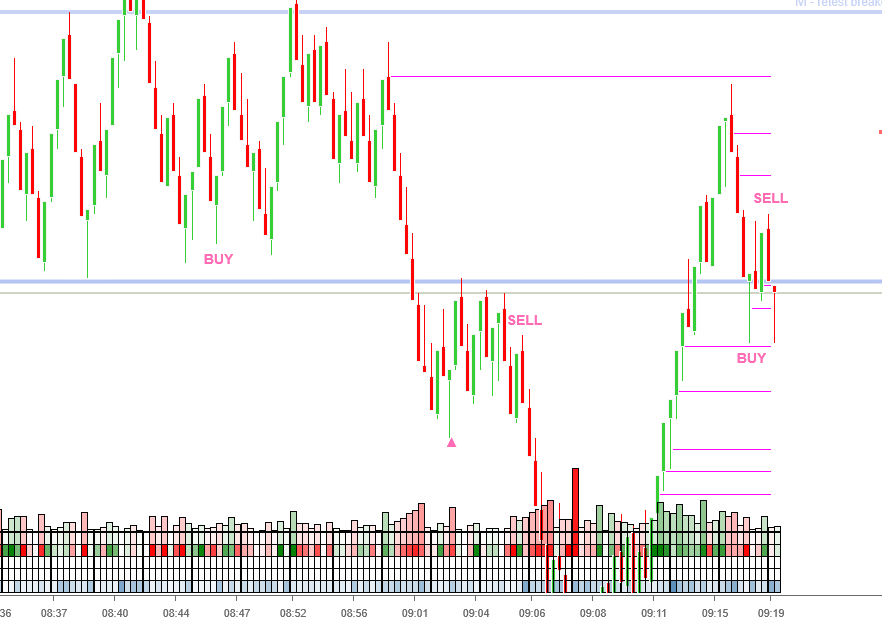 It does all this without bogging down your system.
Another important feature
What do you get more information out of?
This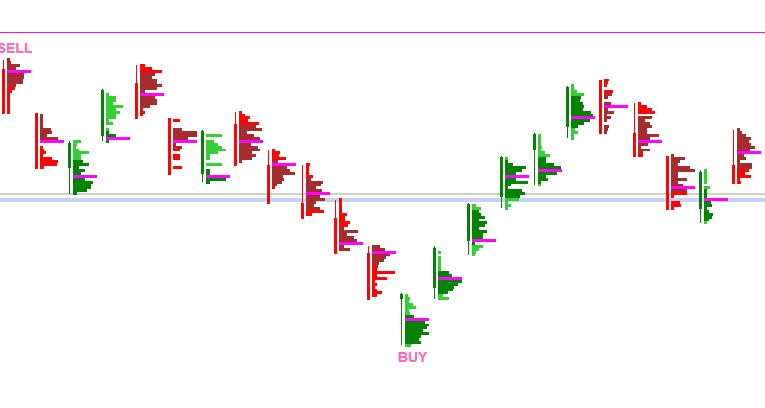 or this!?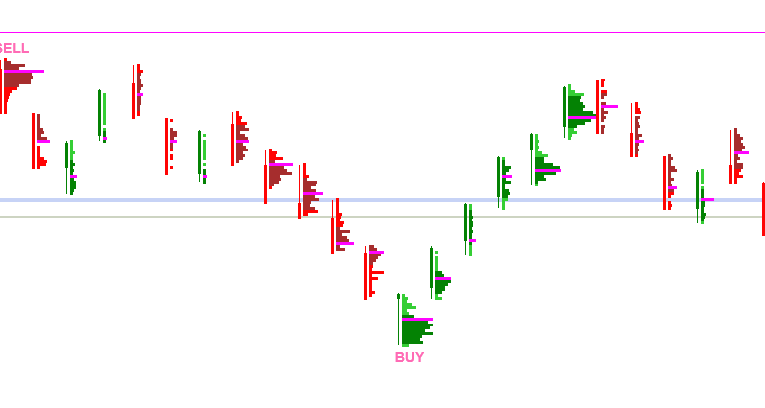 Look carefully at the profile shapes. Most volume profiling tools just draw per the first example. PJSProfilebars draws profiles relative to the volume in the other bars on the screen, so again, you can see the important bars naturally, without looking at numbers. They just stand out. Note the volume builds at the top and bottom of the swings. Not so easy to see in the prior example, is it?  This is the default display behaviour for PJSProfilebars – You can turn it off and have traditional profiles if you prefer.
An alternative profile shape can make this even more obvious. Here is our take on an alternative way for viewing profiles, included in the tool.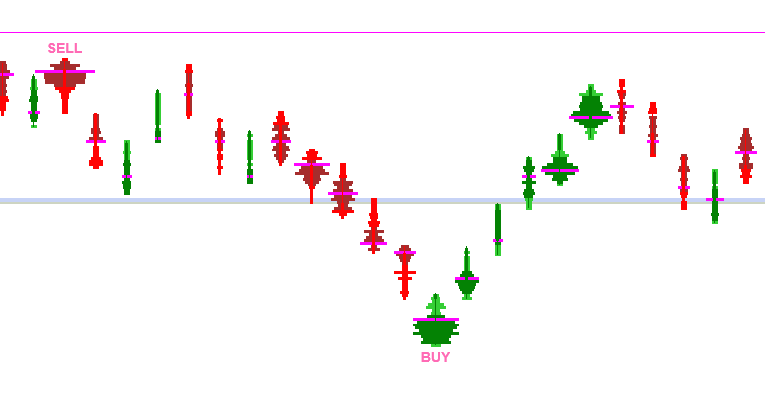 Doesn't that give you more information, than this, below? Believe it or not, that's the same chart. not sure how anyone can look at bars in the same way anymore 🙂  The 'BUY' / 'SELL' tags – These are optionally shown and are in testing. They have automatically detected areas of interest, where possible reversals might be occurring.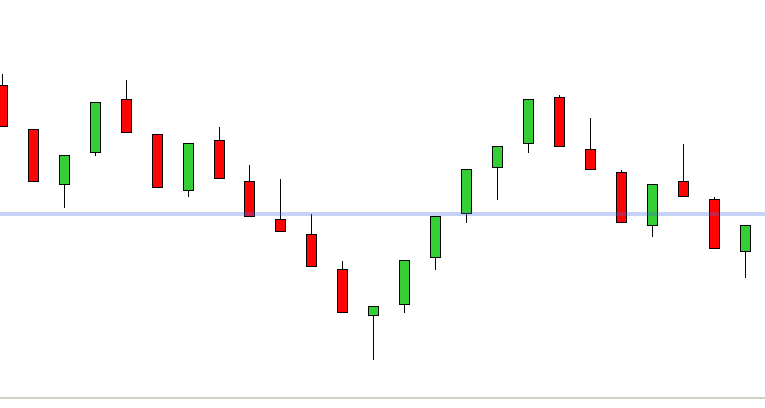 PJSProfilebars will also optionally show your naked VPOC's, too. Also, take a look at those profile shapes again!

All the above examples are showing volume being plotted, but it's possible to have a pure 'delta' view also. This, in its own right, is very valuable and can deliver a fantastic additional perspective over volume alone. It will certainly reveal things that may not be obvious in a pure volume chart.
PjsProfileBars running on the chart, with the option to plot the bars turned off, and 'trade aid' algorithms turned on. This is a Heiken Ashi chart, with candles plotted with the pjsHeikenAshi indicator. You can see here the highlighted bars – All these plots are made by the profile bars indicator running on the same chart. 

In summary
Extremely efficient rendering with automatic degradation if required, during times of volatility on lower-performing systems (the NT chart lag issue!). A huge amount of time was spent on making the rendering and operation extremely efficient 
Works on any time frame, with ANY underlying bar type (including non-time-based charts, renko, unirenko, etc.)
Designed to give you a modern, order flow based view of your chart bars, without compromising your existing charting. Just slide x-Axis left to zoom in!
So there you go.
What do you think? Have any ideas? Let me know in the comments section below.
You might like to take a look at some of my other Ninjatrader bits and pieces.
Example setups
I have begun to add some example trade setups, here.
Requirements
Ninjatrader 8
Updates 
tbr – Added option to abbreviate BUY/SELL labels to B/S, mainly for use when in scaled-down bar/candle only mode.
2021.02.21 – Small fix to avoid a possible 'null' error when trying to calculate the value area on certain bars. 
Additional screenshots below
And, one more. Could not resist showing you this live example that just happened!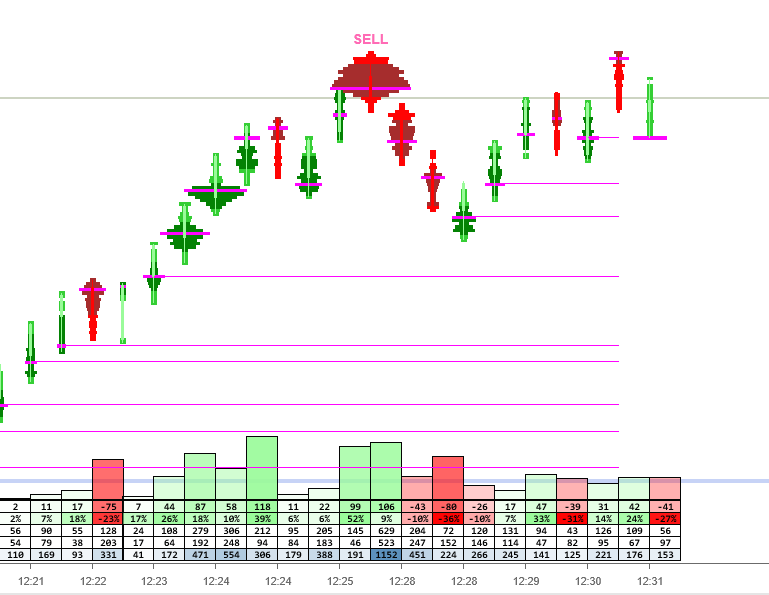 Notes
If you are using the profile bars and want to hide the underlying NT8 bar type, select 'NullStyle' as the NT 'Chart Style', or select it from the bars dropdown at the top of every chart. This is efficient as it stops the NT native bars plotting altogether. I've bundled my 'NullStyle' candle type, for free, with pjsProfiles in case you want to use it. 
Once you have your chart running, use the ctrl-UpArrow/DnArrow to play with the width of your bars until you get something that looks nice.
Real-world usage
We are actual traders, trading real money and not just software developers trading SIM. We've traded with our indicators, live, for 1000's of hours. We can offer some ideas for usage, though we strongly recommend you experiment and find your own edge. We'll be posting more details here and some video content soon 🙂
Download
if you already have a license key, please make sure you enter it in the indicator properties as part of the process of adding the indicator to your chart. Probably a good idea to 'save as default', so your key is remembered in your indicator template. 
There are 2 chart templates beginning pjsXXX in this download that should be installed into your templates folder along with the indicator. The templates include my current NQ scalp template. You can use these when you create your new chart to get yourself off to a start if you wish.
As usual, let me know below if any issues and I will try to resolve them, time permitting.
Licensing
This tool requires a license after the 7 day trial period. You can purchase one here. Please make sure the indicator meets your requirements, prior to purchase. Thanks for your support!
FAQ
Can I install this on multiple computers? Yes – Up to 2 with the same licensed version of Ninjatrader, with the same license key.
Support
if you have any questions, please email us via the web site. If you already have the indicator, please be sure to provide your product key and machine id with the request. We cannot help you unless you provide your product key AND your machine id. Please note, your machine ID can be found in Ninjatrader, under the 'Help, About' menu.
Contact us
Email me via the web site if you want to get in touch.